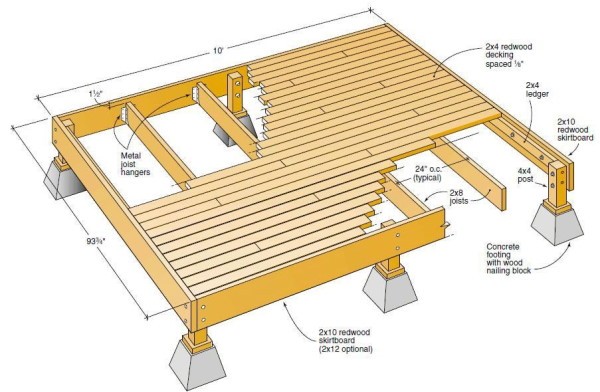 If you have always wanted to build a deck, you are probably thinking of getting a professional deck design. This kind of service offers a meticulous drawing of your outdoor living space. Deck design can also include landscaping, hardscaping like retaining walls, walkways, and patios, as well as patio furniture.
These deck designs vary in terms of quality and scope, ranging from the standard DIY designs you can find in local building material shops to highly customized creations made by industry experts. So, what you can you expect from our deck design service here at Utah Deck Company? What makes it a worthy investment?
What's Included in Our Professional Deck Design?
The deck design from Utah Deck Company can include any or all of the following:
The aerial layout of your deck that includes all the measurements drawn to scale. 

Complete drawings and representations of important components like stairs, railings, skirting, as well as other features. 

Revisions of the original design or drawing

3D rendering of deck space from different angles 

List of materials 

Information on the application process for building permit 

Schedule of installation 
Our team can use the drawings to speed up the construction phase, come up with more accurate list of materials and simplify the process of permit application. You can also use the deck design you will get from us to compare quotations and assess our knowledge and expertise.
Get Custom Deck Design Each and Every Time
All of our decks are guaranteed unique and designed especially for the home of every client. All decisions regarding the materials that will be used will be based on your budget and preferences. The shape and size of your deck will be specific to your home. It will also be based on how you plan to use the deck.
To ensure that you will be getting the perfect deck that suits your lifestyle and your home, we will listen to what you want from your deck and raise questions as needed. This process is what allows us to provide you with the best custom deck design experience. You can check the success of our process through reviews and testimonials from our previous clients.
Strict Attention Down to the Smallest Details
The attention to detail of a deck builder or lack of it could easily make or break both the safety and appearance of your deck. This is the reason why our deck design processes at Utah Deck Company is integrated with strict attention to detail. Careless work is unacceptable to us and all of our team members are required to meet this high standard. During our meeting for consultation on your deck design, we will show you samples of our previous projects.
Process is of utmost importance to us at Utah Deck Company. We follow the right steps in every phase of designing, building, planning then monitoring the construction process. We carefully check everything to ensure that our deck design is followed through and through. Contact us today and let us discuss your dream deck design!